An Australian man's home grown treatment for his daughters' severe crohn's disease abdominal pain nearly landed him in jail.
A 64-year-old Australian father narrowly avoided jail after he tried to ease his daughters' abdominal pain from crohn's disease with cannabis. Stephen Taylor watched his daughters convulse in pain from a disease that kept them chronically underweight and feeling terrible for years. His trial exposes the problems that plague medical cannabis law, and the agonizingly slow pace of reform.
Australia's Medical Cannabis System in Question
The Land Down Under has an odd relationship with cannabis. While medicinal weed was officially declared legal in 2017, only about 3,100 Australians, in a population of 25 million, have so far been granted a prescription. That's roughly just 0.012 percent of the population who have been legally allowed to use one of the world's most popular natural medications.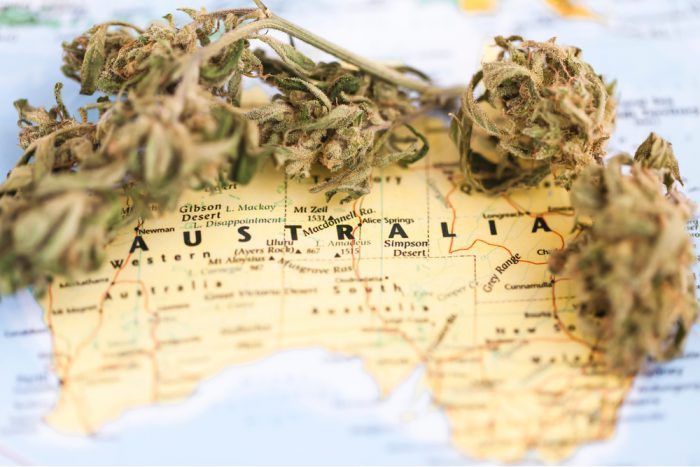 Experts estimate that roughly 100,000 people in Australia are illegally self-medicating with cannabis. And that's only medicinally. More than one-third of Aussies have taken (or continue to take) cannabis recreationally, making it one of the most prevalent cannabis consuming countries in the world per capita.
Part of the reason for the legal hold up is the Therapeutic Goods Administration – the Australian equivalent of America's DEA. The agency, officially part of the Department of Health, requires that all medicinal cannabis patients fill out a lengthy application. And not just patients — their doctors have to file paperwork as well. The forms are cumbersome, lengthy, and unclear. Small errors send the application back to patients. In addition, doctors fear repercussions from the TGA.
It's not entirely clear whether or not the TGA created this heavily bureaucratic process in order to limit the number of successful medical cannabis prescriptions. But if that was the goal, they can consider it successfully achieved.
Chronic Functional Abdominal Pain

After getting nowhere with the application process (like millions of Aussies), Taylor decided his daughters' health was more important than the law. He bought black market cannabis and began to juice it into medicine to treat their Crohn's Disease.
Both Morgan and Ariel Taylor have the gastrointestinal illness, which is marked by persistent diarrhea, severe abdominal pain, fever, loss of appetite, night sweats, and rectal bleeding. If you think that sounds bad, the regular medication that the women were prescribed had side effects that made things even worse.
One drug called Infliximab made Morgan's throat close up, resulting in anaphylaxis. She also developed arthritis and her knees had become so swollen that she couldn't walk. Unfortunately, Ariel had it even worse. The medication caused hemorrhaging so bad that she nearly died, and became far too sick to eat.
Clearly, something had to be done. Taylor's daughters were young, but living like nursing home patients. He was desperate for a solution.
What to do for Abdominal Pain in Crohn's Disease?
Current guidelines from the Therapeutic Goods Administration insist that medical cannabis should only be prescribed when other medications have been tried and proven unsuccessful. That was exactly the case for the Taylors. Still, Stephen could not find a doctor who would help his daughters by prescribing medical cannabis for their Crohn's.
He completed his own research to find that cannabis is an effective treatment for Crohn's. And it worked. His girls found their disease symptoms subside. They could live normal lives again, including attending class regularly and working part time! But, their freedom nearly cost their father his.
Seeing how well the cocktail worked, and worried about the cost, Taylor decided to grow his own weed. From his backyard crop, his created his own form of cannabis juice— a potent and non-psycho-active mixture that effectively turned his daughters' lives around. The ideal daily dose — 30 ml of juice three times a day for two people or 180 ml total per day — called for a large amount of cannabis. So he grew 107 plants on his New South Wales property.
The plants may have saved his daughters' quality of life, but they also attracted the attention of Australian authorities. Authorities arrested him and put him before a judge.
Can Crohn's Kill You?

The good news: The judge presiding over Stephen Taylor's case empathized with the father's plight. Taylor pleaded guilty. As a result, the judge sentenced him to a six-month good behavior bond without conviction. This is similar to probation in the United States.
More good news: The state approved one of the Taylor daughters for a medical cannabis prescription. A three-month trial was also granted for access to free medical cannabis.
The bad news: Once the free trial runs out, the daughter will be on the hook for $1,000 per month (about $700 in USD) to stay healthy. And, the judge let Stephen Taylor know that if he grows more cannabis, he'll be sentenced to prison, no matter the health of his daughters.
One step forward, ten steps back. In extreme cases, Crohn's flare ups can lead to life threatening conditions. However, in Australia's legal system, it looks like trying to help treat someone's abdominal pain from Crohn's can be just as dangerous as having it.