Calgary Stampede Organizers Say No to Cannabis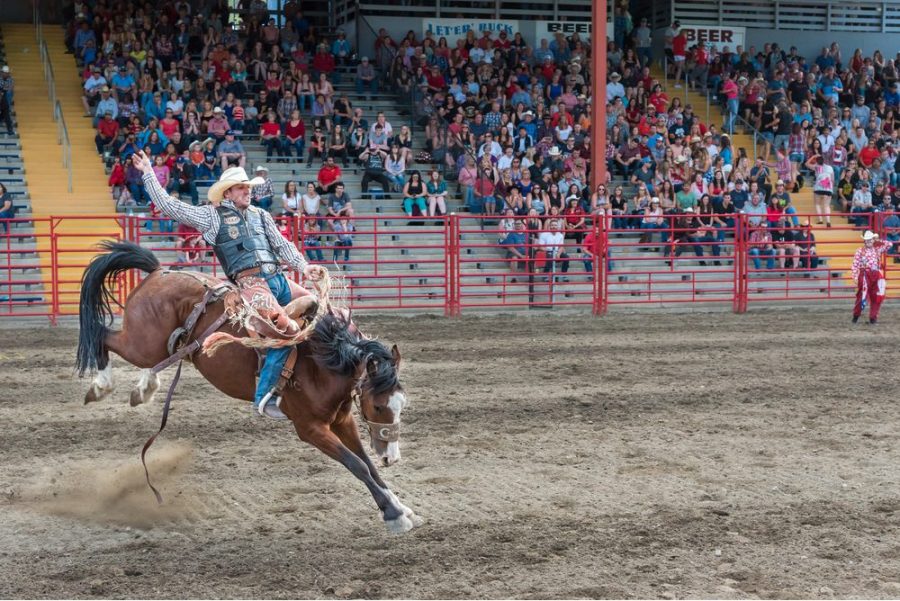 Patients will be forced to medicate outside the Calgary Stampede.
In spite of Canada legalizing recreational cannabis back in October, this year's Calgary Stampede will continue its cannabis policy of previous years. While security won't prevent attendees from entering the grounds carrying cannabis, visitors won't be allowed to consume cannabis in any form. The rule applies to both recreational consumers and medical cannabis patients.
Billed as "The Greatest Outdoor Show on Earth," the Stampede is an annual festival which includes a rodeo, agricultural exhibition, fairground, and entertainment. The event's cultural impact has led to Calgary being affectionately referred to as "Stampede City" and "Cowtown."
However, despite the cannabis industry's status as Canada's fastest-growing job market, the organizers aren't yet ready to showcase Canada's newest legal agricultural product: cannabis.
Alcohol is Fine, Cannabis Not So Much
"We are a gathering place for communities and families and with the scale of the park we've just made the decision to prohibit cannabis on park," said Jennifer Booth – a spokesperson for the event – in comments made to CTV News Calgary.
"We don't necessarily have a penalty in place, we would just kindly ask them to take their consumption off park," she continued.
However, local cannabis advocates point out that leaving the park to use medical cannabis is not possible for every patient: "Leaving the park to medicate is not always an option for those that are severely ill," said Gordon Hayes, director of events and fundraising with Calgary Cannabis Club.
Hayes contends that the restriction violates Canada's Charter of Rights and Freedoms. The club has been campaigning for a change to the cannabis ban but, so far, their pleas have fallen on deaf ears.
Hayes believes that the event should have dedicated cannabis consumption areas, or "cannabis gardens," as well as dispensaries where attendees could purchase legal cannabis.
Despite allowing alcohol and tobacco consumption, event organizers remain reluctant to permit cannabis at the Stampede. They cite a lack of understanding of the impact of cannabis use in large public spaces.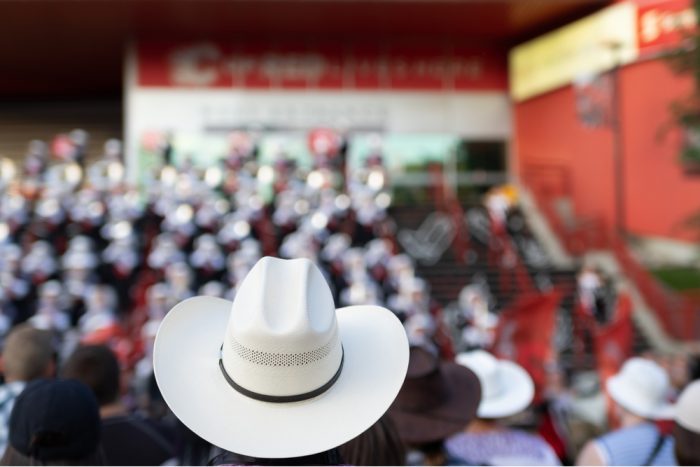 What is the Calgary Cannabis Club?
Calgary Cannabis Club are an activist and educational organization focused on "furthering cannabis culture by providing resources for the cannabis community."
The club is active in cannabis causes across the city. This scrap with the Calgary Stampede organizers over patient's right to medicate is their latest cause.
Back in June, the club staged a protest against high prices in Calgary dispensaries – by giving away free weed.
The club believes that big chain dispensaries are monopolizing the market and pushing out smaller operators. Hayes points out that one company, New Leaf, owns 30% of the market share in Calgary.  He notes that there are hundreds of pending applications and that regulators need to speed up processing.
Hayes claims that current conditions have led to retail prices as high as $17/joint, a situation he calls "outrageous."
The situation led the club to set up shop outside a popular cannabis store this June. They handed out free joints to prospective customers.
Giving away free cannabis is a great way to draw attention to the issues. However, Hayes believes that the real solution lies in consumers taking matters into their own hands by growing their own cannabis.
Calgary Police Hard Pressed to Find Issue With Cannabis
The Calgary Sun recently reported on comments by Calgary Police, who say that cannabis hasn't had any negative effects on crime in the city.
Staff Sgt. Kyle Grant of the Strategic Enforcement Unit reports that users are largely consuming responsibly. Policing cannabis in the city is at "status quo."
The city's chief of police, Mark Neufeld, echoes his comments. Neufeld says: "I don't think it's had the impact that we thought it would."
However, Grant reports that the city still has a lot of illegal cannabis grows exceeding the four-plant limit. Police claim such operations are dangerous, due to illegal diversion of electricity and the potential for producing "toxic mould."
Authorities raided five such grows since October. They were worth a combined CAD $1.4 million. Still, lack of resources hampers enforcement. City police are instead focusing their efforts on other drugs like cocaine, crystal meth, and opioids.
Public Consumption Tickets Rising
In addition to illegal gardening, the city has seen a rise in offenses, such as public consumption and cannabis traffic violations. These include consuming in a vehicle or transporting cannabis in open containers.
Law enforcement has concerns that the cannabis roll out came too fast; and that Canada didn't look enough into the negatives. Further, the impending legalization of edibles, expected this fall, also troubles Chief Neufeld.
Calgary has a largely positive cannabis outlook. Still, it looks like Calgary Stampede organizers are unwilling to budge. The event begins July 5th, and no change of heart is imminent. Patients hoping to enjoy their medicine while learning about Canada's most exciting agricultural product will have to wait another year.