Canadian Police Losing Wack-a-Mole Game With Black Market Cannabis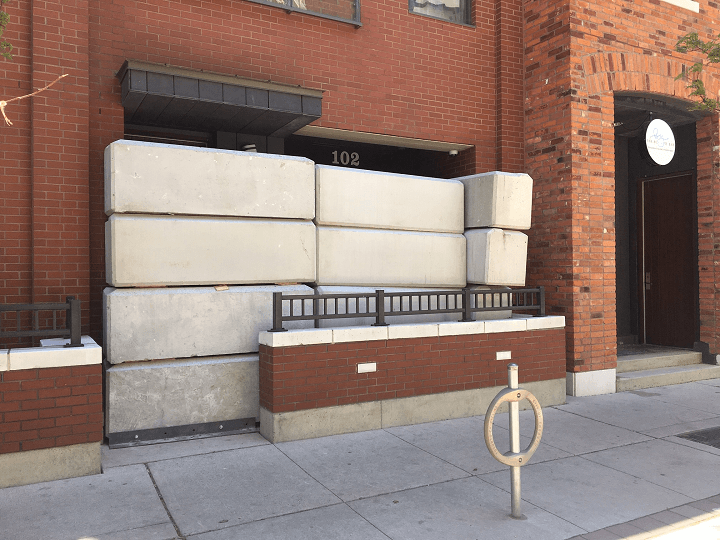 The latest strategy to keep illegal dispensaries shuttered is to block entrance with concrete barricades.
Since the Cannabis Act (November, 2017) passed into law in October 2019, recreational cannabis has been legal in Canada. Many black market dispensaries existed before legalization and many more cropped up after. Much to the impatience of the government, these operations continue to supply consumers who can't access or afford cannabis products from legal sources.
The truth is, illegal dispensaries have bridged an important gap between the needs of cannabis consumers and the government rollout of its new regulatory system. The implementation of legalization has been notoriously rocky and the supply in chronic shortage.
The problem is that illegal dispensaries are not operating within the framework set out by the Cannabis Act. Failing to hold a license that guarantees requirements, like lab testing and "seed to sale" tracking of cannabis, puts consumers at risk. It also, incidentally, keeps the government out of the pockets of black market cannabis. This doesn't necessarily mean that illegal cannabis is not as good as licensed; in fact, it's often the opposite. Lack of oversight, however, does put certain patient populations at risk for exposure to harmful mold or bacteria. In addition, cannabinoid ratios may be inaccurately reported.
Ontario Police Try to Eliminate Black Market Cannabis
The Ontario government has led a brutal crackdown on unlicensed dispensaries across the province.
At the beginning of the month, police in Hamilton, Ontario boasted that they had shut down all of the city's 30+ illegal dispensaries. This leaves residents with 2 legal storefronts from which to buy their cannabis. Given that the city reputedly had over 80 shops prior to legalization, this number seems unlikely to meet the demand.
Toronto's Black Market Harder to Kill
The City of Toronto has been working to achieve the same result as the government of Ontario has been putting pressure on the city to clean the streets of illegal pot shops. However, the task isn't as simple for a city of more than 2.5 million people with over 100 black market cannabis storefronts.
The job of Toronto police is made even more difficult by clever and persistent black market cannabis operators. These dealers frequently work to reopen as quickly as possible after a raid. This leaves police in an uphill battle; unable to minimize numbers because they are reprimanding the same seller multiple times.
The situation has inspired Toronto police to employ an out-of-the-box approach to the shutdowns; they have walled up the storefronts of several of the city's illegal shops with giant concrete blocks. As it turns out, however, they underestimated the determination, and sense of humor, of their opponents.
One black market dispensary on Dundas West and Ritchie responded to the concrete blocks with a privately contracted backhoe. So, the police are engaged in a near futile game of whack-a-mole with black market cannabis dealers.
Legal Cannabis System Needs to Provide a Viable Alternative
While police and municipal governments have focused their attention on shutting down the illicit operators, they have done little to address what makes these shops so popular. Consumers in Canada claim that black market cannabis, tested or not, is of higher standard than legal sources. Black market cannabis is also significantly cheaper than legal.
Perhaps most importantly, underground dispensaries provide an access point to residents who don't meet the requirements to purchase from a legal source. This includes those without a fixed address or access to a computer, and those lacking a credit card to complete the registration. As usual, government regulations tend to harm those at a socio-economic disadvantage the most.
Voters Need to Push for More Compassionate System
This is a serious problem, and one that police are unlikely to seek solution to without pressure. The responsibility of adopting a more compassionate approach falls to lawmakers. However, these are the same lawmakers currently pressuring police to continue their battle against illicit dispensaries.
Luckily, there are voices that lawmakers will listen to: voters. The biggest difference caring Canadians can make is to contact their local representatives. If you can, advocate that some of the main complaints about the legal cannabis systems be addressed.
The most prominent of these complaints are:
The registration being limited to the online system.
The limited number of storefronts.
The reliance of the online ordering system.
The prohibitive price of legal cannabis.
It's important to encourage our lawmakers to adopt the most inclusive system possible if they aim to eliminate the demand for illegal shops.