Fibromyalgia Pain Sent Me Into A Spiral Of Addiction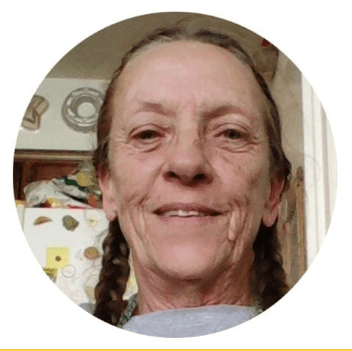 I was using alcohol and pain pills to get through. Nearly dead.  Cannabis brought me back to living. 
My name is Jeanne and I am 63 years old. Before I was diagnosed with fibromyalgia, I had no idea what caused the aches and pains that I suffered with my whole life. I self-medicated with over-the-counter meds, alcohol and pot. Even way back then, I knew that pot was the thing that let me feel my best.
When we started our family, I was drinking more than smoking pot just due to having the kids and living in different states where cannabis was not accessible. My pain was getting worse, and my drinking was out of control.
In 1998, I quit drinking and all hell broke loose on my body. I was diagnosed with anxiety, depression, pre-menopause, arthralgia of the neck, and degenerative arthritis in my lower back. None of the pharmaceuticals prescribed did anything to touch my spasms and joint pain. I was no longer sleeping and my marriage was falling apart.
In February of 1999, I was finally diagnosed with fibromyalgia. That invited in another set of meds: Naproxyn, Effexor, Soma. My doc believed the pain was all "in my head."
They Start Me On Percocet
After an emergency hysterectomy in 2003, I was given a morphine pump. I hit that thing 40 times in 1 hour before they took it away and replaced with Percocet. WOW! I never had pain relief like that. They only gave me 5 days worth though and when I ran out, the pain came back with a vengeance. I started chasing relief. I managed to get various strengths of Percocet and Vicodin for the pain, Soma for muscle spasms, and a multitude of others (steroids, tizanidine, dicolfenac, and robaxin to name a few).
The more pain I had, the more pills I shoved down my throat, and the worse I felt. So I just kept taking more and then added alcohol into the mix to go deeper into relief.
So many things happened after that: I lost my sign painting business; was denied SSDI; retrained for a sedentary job; had a heart attack; that job ended; and just kept upping my pain meds that weren't working. I was so doped up, I didn't care if I ever got out of bed. I was so badly bedridden that I literally wore a hole in the sheet AND mattress pad!
In 2015, a friend gave me cannabis for my birthday. At first, I smoked it while taking all of the other pills…but then I realized that it was actually killing the pain. In October, I got legal and began weaning myself off the pharmaceuticals. My very last hydrocodone 10 was on Thanksgiving Day, 2015. It's just MMJ for me!
My family and friends can't believe the transformation – physically and emotionally. I am up and doing things instead of laying in bed, complaining.
How I Treat My Fibromyalgia Pain
For the day, I use sativa dominant. Blue Dream is a favorite. And I always mix Harlequin or Fire Angel high CBD strain with it. At night, I use a strong indica or hybrid, like Vanilla Kush or Boss Hogg. I also mix this with a high CBD strain.
Do I get high? Maybe. But that's not how I would describe the swoosh of pain relief that courses through my body after the first few hits in the morning…