Judith: Myasthenia Gravis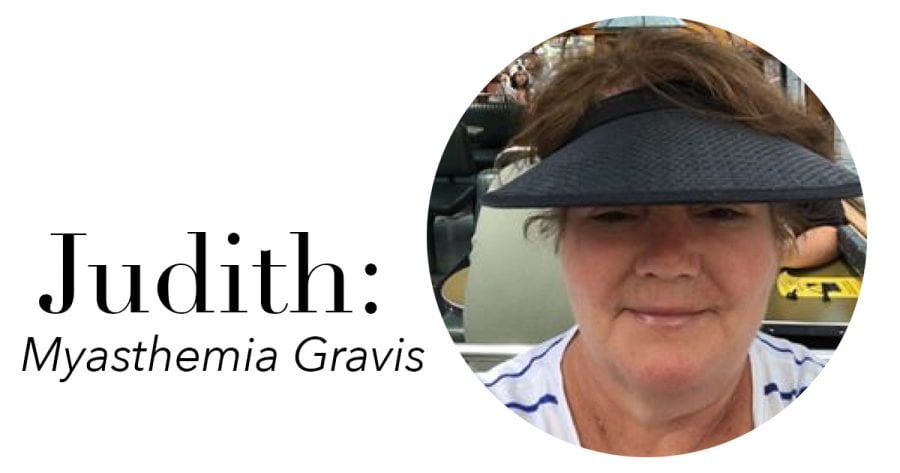 Cannabis has changed my life for the better; I don't feel like I'm dying anymore from the pain of Myasthenia Gravis.
My name is Judith and I was a RN for many years with a specialty in Critical Care. I was a huge advocate for preemptively treating pain symptoms in my very sick patients. So, it seemed so ironic that when I became sick with a rare neuromuscular degenerative autoimmune disease, Myasthenia Gravis, my doctors were reluctant to prescribe meds to treat the pain.
The disease causes severe muscle spasm. It interrupts normal muscle actions all over the body: bowels, swallowing, vision, and especially breathing. I understood that narcotic pain meds could decrease my ability to breathe, so I went along with alternative therapies trying acupuncture, guided visualization, meditation, TENS treatment, physical therapy.
Then as a result of general weakness, I fell and fractured C6 in my neck. That required multiple surgeries to fix and left me with nerve damage in my neck, right brachial plexus, and right arm. Both nerve and muscular skeletal pain made my life horrible for years. My life fell apart, including my long term marriage, and I just got sicker.
The disease was out of control so my son had me move in with him, and I started seeing a specialist at University of Maryland. I started a treatment that involved total immunosuppression. In the 3 years I've been in treatment, I've received IVIG infusions over 2 days monthly. That required having a port implanted for the infusions. Because of the immunosuppressants, the port became infected and had to be replaced twice…the last time was life threatening causing sepsis. I spent a week on the ventilator in Shock Trauma then another month in hospital recovering from it.
Almost 2 years ago, I lost the ability to swallow safely and my gut stopped working (gastroparesis), so a double lumen feeding tube was placed into my stomach. I went into a wheelchair 3-years ago when the large muscles of my legs stopped working.
Eventually I went into the pain treatment program at Johns Hopkins. The disease and the immune suppressants limited my pain treatment options, but they tried to get me reasonably comfortable.
Last year I was hospitalized for pneumonia 3 times: a jaw abcess, a GI bleed, flu with intractable vomiting and sepsis. When I collapsed on Christmas Eve last year with sepsis, my doctor decided he would no longer treat me for pain because he was fearful that I would have respiratory arrest. That sent my son and me scrambling to find pain management.
The pain specialist at UofMD actually told me to move to DC because medical cannabis is legal there and she felt it would be safest for me. I found a doctor here and started Marinol for pain and nausea as well as CBD oil and herbal salves for the muscle spasm.
I saw almost immediate effect from the Marinol – to the good. So my son set out to research what I should be taking. We ended up going to Amsterdam for 2 weeks to sample different varieties of Cannabis and CBD, CBG, CBN oils.
Within days of starting the CBD oils while back in the US, I was able to swallow safely and saw better gastric motility. I was able to swallow edibles. I found that smoking a couple puffs of an Indica blend twice a day managed my pain, helped my stomach digest again, allowed me to see enough to read, and helped eliminate the spasms in my muscles and digestive system.
Smoking works much better than edibles…probably because I absorb food erratically. I continue with the Marinol and herbal salves and CBD oil …but look forward to being able to vape or smoke when it's available.