Should Your Kid Take Cannabis Instead of Pharma for Anxiety?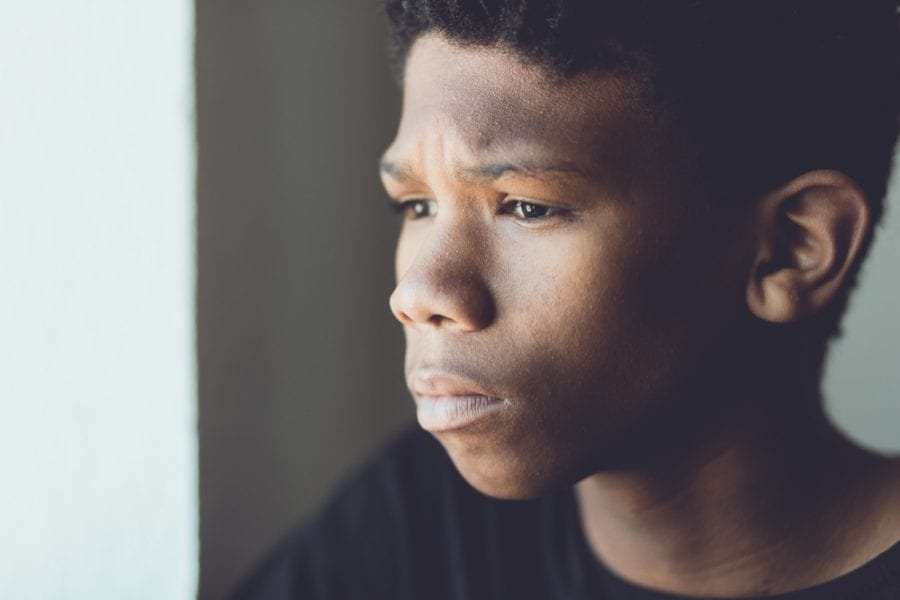 Kids, up until the end of adolescence, have more CB1 receptors in their brain than adults, suggesting dosing would be lower for kids.
In Canada and United States, anxiety ranks among the top five conditions for which individuals seek treatment with medical cannabis. Although many anecdotal reports exist describing the anxiolytic (anti-anxiety) effects of cannabis, rigorously designed clinical studies are lacking.
Nevertheless, the reports that have been published provide some evidence that indeed, both THC and CBD may be considered anxiolytic molecules. THC uniquely exhibits a biphasic dose-dependent effect on anxiety, whereby at low doses (1.25mg on the lower end) it reduces anxiety and at higher doses (10mg on the lower end) it stimulates it in healthy adults.
On the other hand, CBD has consistently demonstrated anxiolytic properties and in fact, has been shown to successfully reverse the anxiety-inducing impact of THC. A dose of 300mg of CBD has been shown to induce the same anxiolytic effect as a single dose of serotonin receptor inhibitor which is typically prescribed as an antidepressants. All of these data have been collected in adults, and the question then remains whether the same anxiolytic effects are observed in the pediatric and adolescent populations?
Little is known about the effects of cannabinoids on anxiety in pediatric population due to the lack of data in the literature. Only one case report has been published describing the effectiveness of cannabidiol oil in treatment of anxiety and sleep issues in a 10-year-old female with post traumatic stress disorder (PTSD). She was administered 12-25mg dose of CBD oil in the pill form at the beginning of the protocol and later sublingual spray was also added to the regimen. The treatment was initiated in March and by August significant improvements in both the anxiety and sleep scales had been observed. Her behaviour improved, and she was sleeping well and attended school regularly by the end of the protocol. She also reported no side effects.
Since THC and CBD signaling is exerted through their interactions with CB1 and CB2 receptors, is there a difference in cannabinoid receptor abundance, distribution, or even function between pediatric and adult humans?
CB1 receptors are highly expressed in neural tissue at locales in the brain involved in emotional processing, motivation, and motor activation; all areas that affect anxiety levels and perception. In fact, CB1 receptors, as well as endocannabinoids, can be detected in the human brain during early development.
Interestingly, during the perinatal period, an unusual pattern of CB1 receptor expression is observed where they are localized abundantly in regions of the brain that are devoid of CB1 receptors in the adult human brain. In animal models, CB1 receptors have been shown to mature slowly with maximal level of expression during adolescence, then drop off to adult levels.
With peak levels of CB1 receptors expressed during development from childhood to adolescence, it may be expected that during this time period, the effects of THC and CBD may be altered.  This is in comparison to those observed in adults, particularly when taking into consideration the anxiogenic effect of THC at higher doses. Perhaps the appropriate staring doses should be lower in pediatric populations, which is also supported by the anxiolytic effects of 25mg/day dose of CBD described in the pediatric case report above.
Theoretically, higher abundance of CB1 receptors and/or levels of endocannabinoids in human pediatric populations would suggest that the therapeutic doses of THC and CBD for anxiety are lower than those for adults. Practically, we do not know that with great certainty, as studies are lacking in this area of research. Animals studies will likely preclude those in humans, and are crucially needed, since by human adolescence many psychiatric illnesses, including anxiety and mood disorders, increase in incidence and are in need of therapies that will be maximally beneficial with minimal side effects.